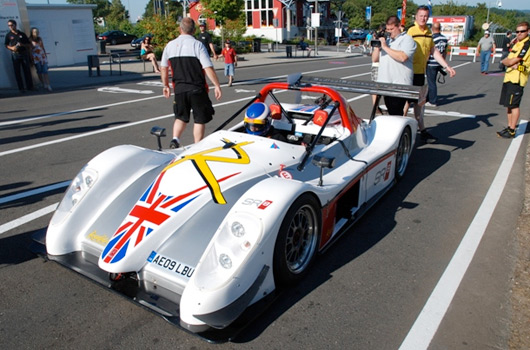 Forget the Gumpert's news, the lads from Peterborough in the UK were having none of that! They have driven a Radical SR8LM from England to Germany and then gone on to smash their own four year old record at the Nürburgring Nordschleife. For so long the previous best time by a "road car" was held by the Radical SR8, at 6 minutes and 55 seconds, but now, the time has been lowered. And by an astonishing margin, too, breaking the 6 minute 50 barrier for the first time to set a new record lap of 6 minutes 48 seconds.
I hope you didn't miss that factoid in the first sentence. The car used for this record lap was driven to the track under its own power. Not babied on the back of some palatial transporter.
The lap was set in perfect conditions by a casual looking Michael Vergers, wearing a short-sleeved t-shirt, would you believe. "The car was great, I could push really hard and it felt clearly faster than the previous SR8 in 2005," said Vergers. "It's fantastic that we've beaten the record; hopefully I'll get an opportunity to return with Radical in the future."
Radical co-founder Mick Hyde was clearly chuffed with the news and boasted about his car's, erm, practicality, "We've proved that the SR8LM is not only the world's best trackday car, but it's also practical enough to drive to and from the circuit. It is a genuine production sportscar, with genuine performance credentials, as we've shown today."
Amazingly, just a single set of Dunlop semi-slick tyres were used to drive to Nürburg and then to set the record time.
Expect to see video of the lap online in coming days. In the meantime you can listen (and watch) to Michael Vergers talk you through his previous record lap, set in 2005 at the wheel of a Radical SR8.
[Source: Radical Sportcars]